HONTEK WIND TURBINE LEP COATINGS
Rollable (Liquid Reactive Coating)
Brushable (Liquid Reactive Coating)
Preformed Shape: (Precured solid shape, such as "soft shell", "boot")  
Hontek has developed extremely rain erosion resistant coating for wind turbine blade leading edge protection (LEP).  These coatings can be both rain erosion and particle erosion resistant. They can be applied by rollers, brushes, or adhesively bonded if they are preformed shapes.
Hontek liquid coatings have many  advantages over other competitive products:
Longer pot life than typical LEP coating
Very forgiving during field application
Excel in high humidity field repairs, up to 99% relative humidity 
Suitable for lower humidity, as low as 30% relative humidity
Hontek LEP coatings have been field trialed on high humidity environments such as Prince Edward Island, Canada and UK offshore wind farm.  They have also been installed in the dry mountains in Washington State, USA. Great results have been reported. New improvements are also being added as a result of the field trials.
In 2016, three European wind farm owners (E.ON, Vattenfall, Statkraft) jointly conducted a rain test screening of all commercial LEP coatings in Denmark.  The rain tests were conducted by Polytech of Denmark, with its own premolded Soft Shell participating.  Hontek was invited to participate. The agreement was that all participating coatings would be designated with a generic code in the tests, and Hontek would receive the test report with Hontek samples identified and all other coatings still identified with generic codes.   Hontek was told that most coatings failed within 0.5 to 3 hours.  Only two products showed no damage after 13 hours, when the rain test was stopped.  Hontek coating was the only thin liquid coating survived 13 hours without any damage.  The other is a pre-molded solid Soft Shell by Polytech, which is many times thicker than Hontek coating.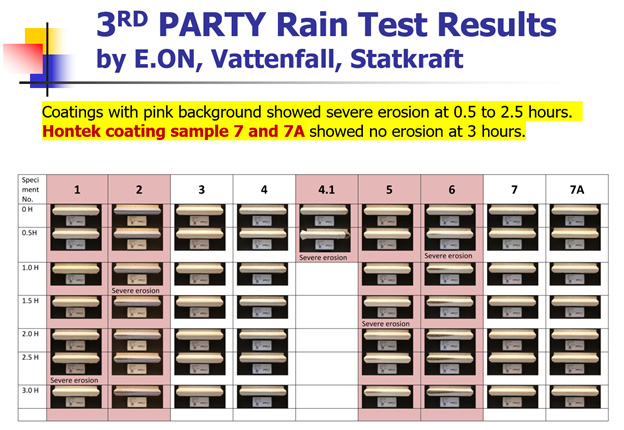 RAIN TEST RESULT OF HONTEK SAMPLE 7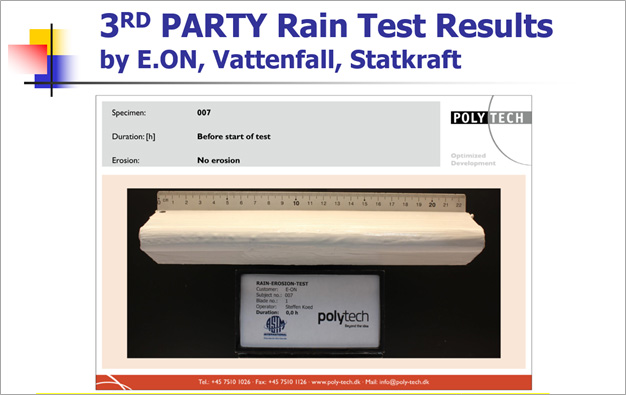 The above photo shows the surface texture of Hontek sample 007, which was brushed on.  It was the first time the technician used Hontek coating. The lack of prior experiences caused the sharply irregular bumpy surface patterns.  Normally, these irregularities will cause raindrops to tear the leading edge open very quickly.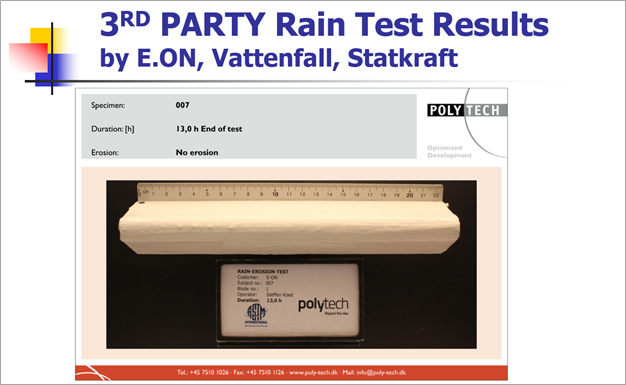 To everyone's surprise, Hontek Sample 7 survived 13 hours of rain test without any damage or change in surface texture. The rain tested Hontek Sample 7 looks exactly like new before the rain test!  This is Incredible rain erosion durability!!
RAIN TEST RESULT OF HONTEK SAMPLE 7A
Polytech also rain tested Hontek Sample 7A.  The technician had gained experience with Hontek coating, producing much nicer, smoother coating surfaces at the leading edge.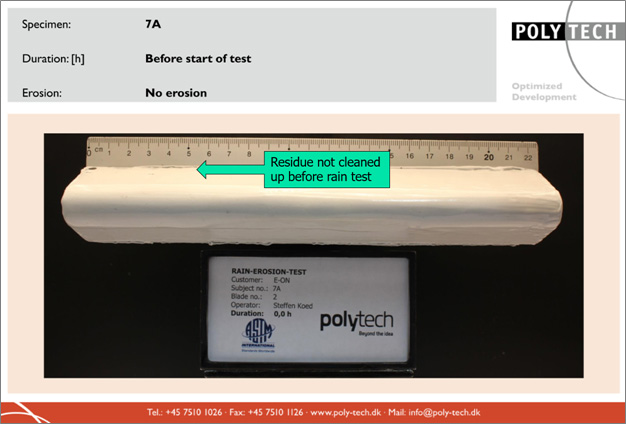 However, there was a brushed coating residue at the base line, between 3cm and 5cm on the ruler's markings.   This is far away from the leading edge surface and is typically ignored in the discussion of leading edge rain erosion damage.
The rain test technician noticed that the coating residue at the baseline started to break away at 2.5 hours into the rain test and mistakenly classified it as rain erosion damage. It is well known that rain erosion on wind turbine blades occurs at the nose of the leading edge.  Therefore, the breakoff of a piece of coating residue far away from the nose of the leading edge is typically NOT treated as rain erosion damage for leading edge protection.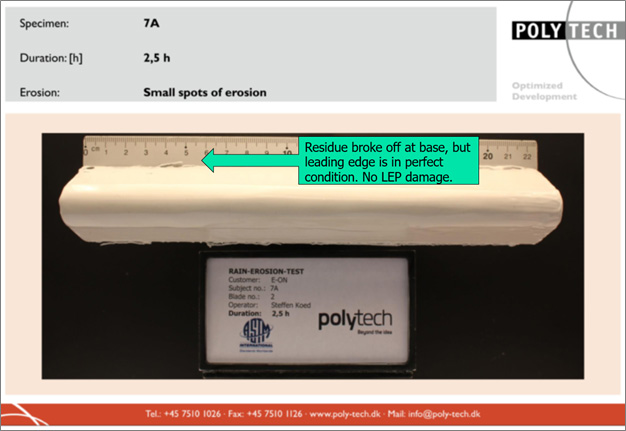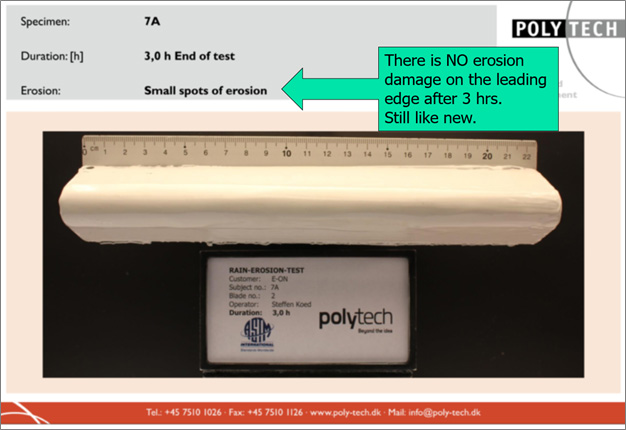 In conclusion, among all the commercial LEP products tested by the joint efforts of the three European wind farm owners (E.ON, Vattenfall, Statkraft) has demonstrated that Hontek coating was the only thin liquid coating that showed no damage after 13 hours of rain test at Polytech.
The other product that showed no damage after 13 hours of rain test was Polytech's own very thick molded Soft Shell, which is applied by adhesive bonding.