Several well-known commercial wind blade topcoats and LEP coatings were compared for their rain erosion resistance in a rain test at UDRI, located at Wright-Patterson Air Force Base, Dayton, Ohio. Rain erosion conditions were at speed of 500 miles/hour (223.5 meters/sec), rainfall rate of 1"/hr (25.4mm/hr), 2.0mm raindrop size.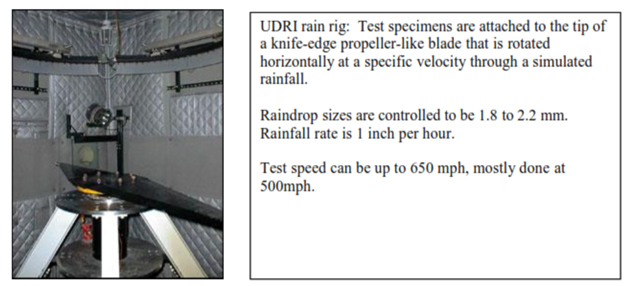 Hontek has conducted a very large number of rain tested specimens over the years. Below are some photos showing the results of many well-known commercial products. As seen, Hontek various coating formulations are far superior to the commercial products.
The following photos show the following results: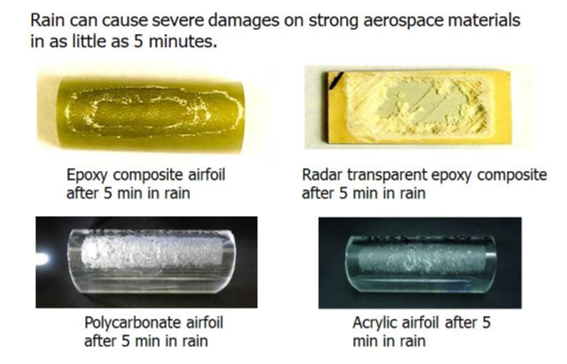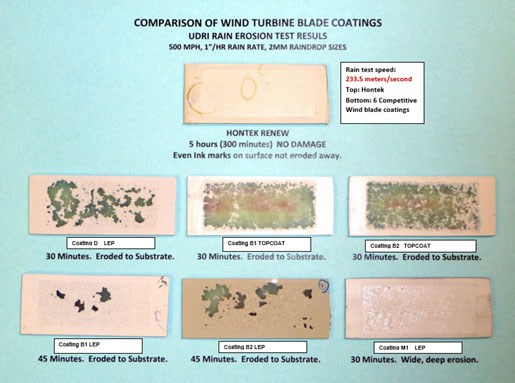 As seen in the above, Hontek coating showed no damage after 300 minutes.
Commercial LEP coating D: Severely eroded to substrate in 30 minutes.
Commercial blade topcoat B1: Practically all gone in 30 minutes.
Commercial blade topcoat B2: Practically all gone in 30 minutes.
Commercial LEP coating B1: Four large craters to substrate in 45 minutes.
Commercial LEP coating B2: Many large areas eroded to substrate in 45v minutes
Commercial LEP coating M1: Wrinkled after 30 minutes.
In another rain test conducted at UDRI, Hontek sprayable coating W-110 was rain tested at 300 miles/hour (135 meters/second), rainfall rate of 1"/hr (25.4 mm/hr), 2.0mm raindrop size. The coating showed no damage after 24 hours, as shown in the following photos from the video recording: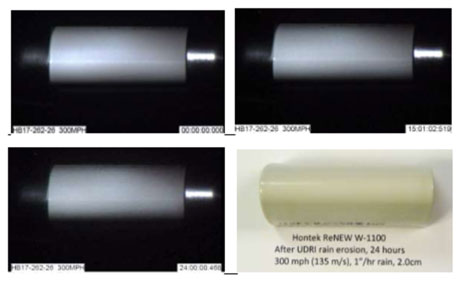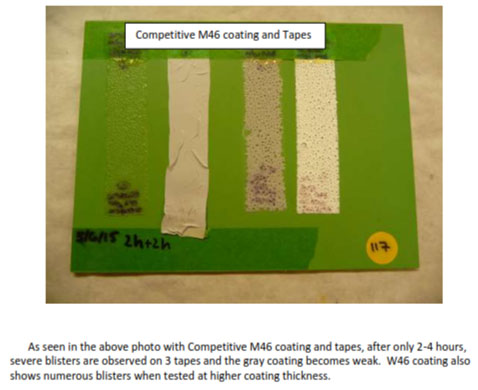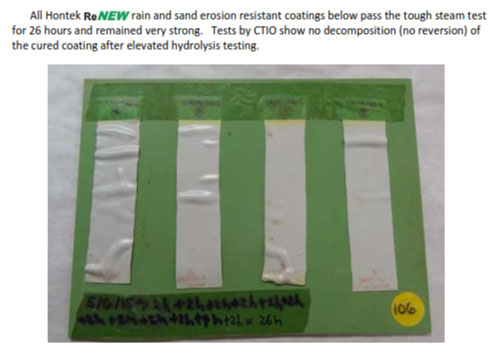 COMPARATIVE PHOTO GALLERY OF COMMERCIAL SPRAYABLE RAIN EROSION COATINGS
Sherwin William's Polane T sprayable coatings are used by some companies as rain erosion protection coatings. These coatings on aluminum substrates showed widespread failuer in 2 to 11 minutes.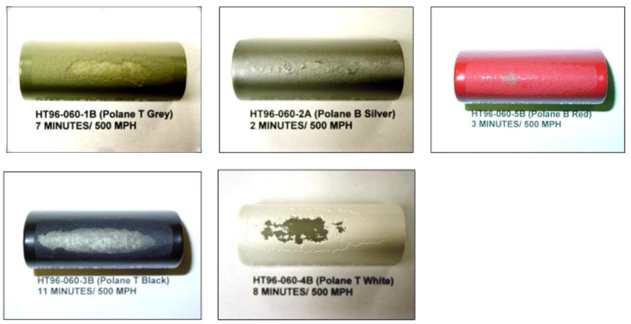 The following are very common rain erosion coatings which were adopted into military equipment in the 1970's to 1980's but they offer very low rain erosion resistance:

Chemglaze M331 from Lord Corporation is a MIL-spec rain erosion coating used in protection of aerospace structure. At 0.017" thickness on a titanium airfoil, it was eroded to substrate in less than 40 minutes with widespread delamination. Task L-100, a coating used by US Army, was eroded to substrate in 18 minutes.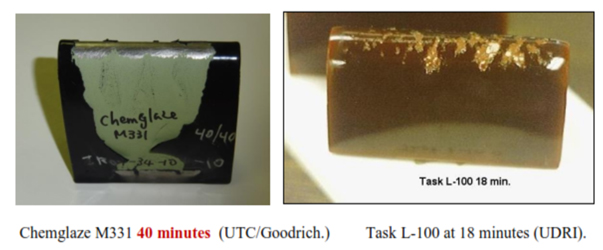 COMMERCIAL TAPES AS  RAIN EROSION COATINGS
Polyurethane tapes have been sued to protect helicopter rotor blades.  While the tapes look perfectly beautiful when viewed and touch in hands, they are well-known for quick delamination in rain, causing imbalance, vibration and flight safety. 3M 8663 is used on may aerospace applications.
Below is a comparison of 3M 8663 tape and one of the Hontek sprayble coatings:

HONTEK HC05XP1 SPRAYABLE HEAT CONDUCTIVE COATING VS. 3M 8663 TAPE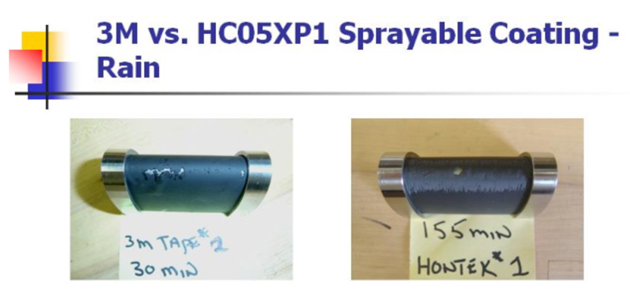 3M 8663 tape was eroded to substrate in less than 30 minutes. Hontek HC05XP1 sprayable coating showed black topcoat erosion at leading edge and one site to substrate on the gray heat conductive coating. Rain test condition was 494 miles/ hour (221 meters/ second).
3M tape is well known for the delamination. To demonstrate the advantage of Hontek coating over 3M tape, one aluminum airfoil was protected by 3M 8663 tape, the other with Hontek HC05XP1 coating. A 1/8" hole was created on 3M tape, and an even larger 1/4" hole was created on HCO5XP1 coating. Under normal circumstances the larger hole would cause earlier erosion failure. Both airfoils were subject to rain erosion at URDI. 3M tape delaminated in 19 minutes, and was completely lifted up at 20 minutes. In comparison, after 144 minutes, Hontek HC05XP1 coating showed a larger hole, but the coating still adhered tenaciously to the aluminum substrate. In fact, rain has eroded deep into aluminum substrate, creating a very rough pitted aluminum surface, but coding damage remained limited.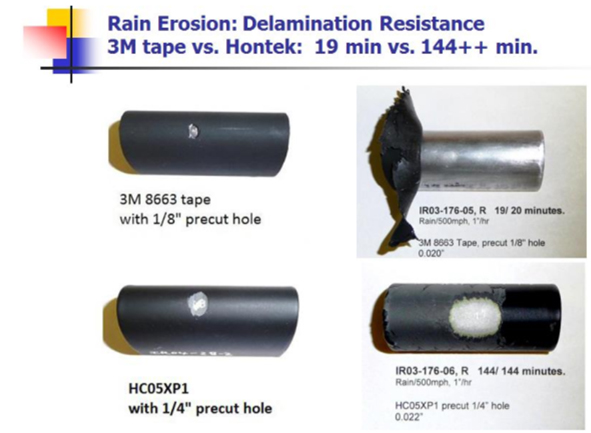 The following photos show the further improved rain erosion test results of HC05XP2 coated aluminum airfoils after 394 minutes and 458 minutes at UDRI.  HC05XP2 is the improved version of the older HC05XP1.