2009 AAAA
MATERIEL READINESS AWARD
For Contribution by a Small Business Organization
Awarded to:
Shek C. Hong and Hontek Corporation
Award Proclamation to honor Hontek achievements announced by AAAA during dinner banquet: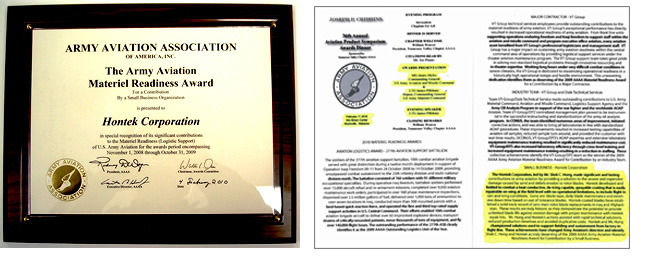 "The Hontek Corporation, led by Mr. Shek C. Hong, made significant and lasting contributions to army aviation by providing a solution to the severe and expensive damage caused by sand and debris erosion to rotor blades.
Hontek developed, and fielded to combat a heat conductive, de-icing capable, sprayable coating that is easily repairable on wing at the field level with no operational limitations, to include flight in rain and icing conditions.
Gone are: blade tape, daily blade maintenance and extensive down time based on out of tolerance blades. Hontek-coated blades have established a solid track record of zero main rotor blade replacements in Iraq and Afghanistan. These results are truly historic as they have demonstrated the potential to provide unlimited blade life against erosion damage with proper maintenance with Hontek repair kits. Mr. Hong and Hontek's actions assisted with rapid technical solutions, reduced production timelines and avoided duplicative costs. Hontek and Mr. Hong championed solutions used to support fielding and sustainment from factory to flight-line.
These achievements have changed Army Aviation's direction and identify Shek C. Hong and Hontek as truly deserving of the 2009 AAAA Army Aviation Materiel Readiness Award for Contribution by a Small Business."
Hontek HC05XP1 Heat Conductive OEM Sprayable Coating
Hontek Celebrates Two Historical Achievements: Zero Main Rotor Blade Replacements for
Hontek-coated Blades in harsh environments!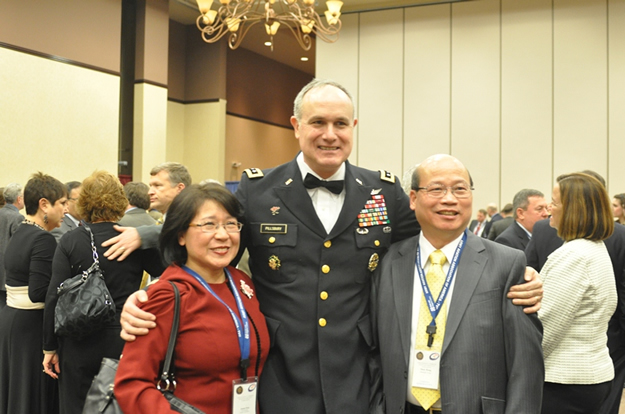 At the 36th Annual Aviation Product Symposium Award Dinner in 2/2010,  Lieutenant General James Pillsbury congratulates Mr. and Mrs. Hong on Hontek' s winning of the 2009 AAAA Materiel Readiness Award for Contributions by a Small Business.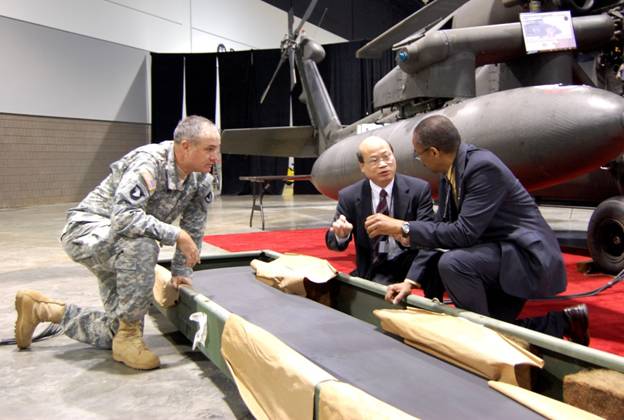 At the 2007 Convention of Army Aviation Association of America, Shek Hong reviewed the Hontek-coated Black Hawk main rotor blade on display, with Major General James Pillsbury and the Honorable Claude Bolton, Jr. Assistant Secretary of the Army for Acquisition, Logistics and Technology.